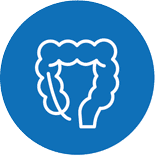 Colorectal Cancer Prevention
You can seriously diminish the chances of getting colorectal cancer by taking some precautions.
Identifying Protective Factors

Although our genes and age influence our risk of cancer, most of the difference in cancer risk between people is due to factors that are not inherited. You might be able to 'protect' yourself and to lower your risk of colorectal cancer by managing some of the risk factors that you can control.

The best protective factor is to get yourself screened regularly!

Avoiding tobacco products, staying at a healthy weight, staying active throughout life, and eating a healthy diet may greatly reduce a person's lifetime risk of developing or dying from cancer…

'Healthy living' is not a cast-iron guarantee against cancer. But it stacks the odds in your favour, by reducing the risk of developing the disease.

In the same way, careful drivers cannot guarantee that they will never get into an accident due to events beyond their control, but they are much less likely to do so than reckless ones…

These same behaviors are also linked with a lower risk of developing heart disease and diabetes.

Make Lifestyle Changes to Reduce Your Risk

You can take steps to reduce your risk of CRC by making changes in your everyday life.

You can reduce your risk of developing colorectal cancer by making healthier lifestyle choices. Scientists have estimated that ~50% of bowel cancer cases in the UK alone could be prevented through:

being a healthy weight
eating well
being physically active

The World Cancer Research Fund International (WCRF) is a not-for-profit organization that analyses up to date global research on how diet and physical activity is related to cancer prevention.  They produced a report which was reviewed in 2018 on the link between diet, physical activity and colorectal cancer. Their recommendations outlined below allow us to make practical changes to our lifestyle to reduce our risk of developing cancer, including colorectal cancer. Avoiding or stopping smoking is the biggest lifestyle change you can make.

Some medications have been found to reduce the risk of precancerous polyps or colon cancer. However, not enough evidence exists to recommend these medications to people who have an average risk of colon cancer. These options are generally reserved for people with a high risk of colon cancer.

For instance, some evidence links a reduced risk of polyps and colon cancer to regular use of aspirin or aspirin-like drugs.

There is some evidence that long-term use of aspirin lowers the risk of developing non-cancerous growths (polyps) and colorectal cancer. Studies have shown that taking aspirin lowers the risk of colorectal cancer and the risk of death from colorectal cancer.

Aspirin may also benefit people who have already been diagnosed with CRC that has not spread to other parts of the body. A small number of studies have found that it reduces the risk of colorectal cancer coming back after treatment.

More information is needed about how aspirin works to lower the risk, who it might help, what dose is best and how long people should take it for.

Aspirin can cause (serious) side effects. The possible harms of aspirin use (100 mg or less) daily or every other day include an increased risk of stroke and bleeding in the stomach and intestines.

Talk to your GP or medical team first, if you're thinking of taking aspirin. They can advise you on the safety of aspirin and whether it might benefit you.